I simply do not know how to talk of this.
How is it possible that yet another bomb has gone off in Ankara? How is it possible that the ruling party cares more for its image than it does for the lives of those lost and affected? How is it possible that some consider it more important to issue a blanket ban on coverage of the event than to actually do anything concrete and viable?
Kizilay in Ankara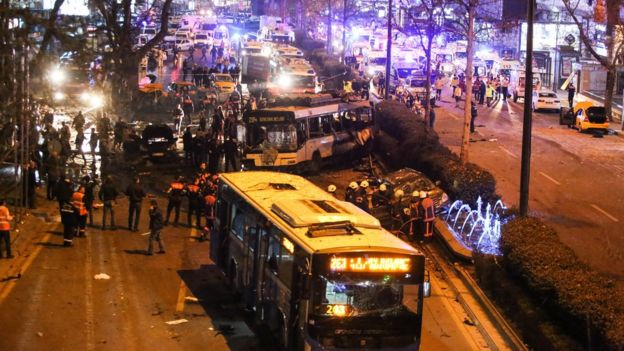 source: Getty Images via the BBC
I said in my previous post on the last bombing that people who have no connection with Turkey probably find it hard to empathise, simply because of the objective and subjective distance from the event. We shouldn't blame or curse for that - it's what people do, otherwise they wouldn't be able to get up in the mornings for the sheer terror, pain and misery that happens around the world all the time. So, in order to contextualise, let's try a bit of what-if to create an analogy.
What if the British Government had refused to recognise Welsh as a language at all, and regarded the Welsh as a kind of inferior English?
What if, in the mid-twentieth century, the British government had cracked down a bit harder on Welsh nationalists and banned Welsh outright?
What if they had locked up, without trial or representation, anyone using Welsh?
What if they had pursued a policy of razing Welsh villages to the ground, and enforced a school curriculum that severely punished any child using Welsh?
What if the Meibion Glyndwr (The Sons of Glendower, a militant Welsh Group) had begun carrying out more than just firebombing attacks?
What if Plaid Cymru were represented as being the political wing of the MG, and demonised as such?
What if the MG, in 1966, had been successful in carrying out a terror attack at Prince Charles' investiture in Caernarfon?
What if the British government had moved an occupying force into Wales, and so didn't deploy to the extent it did in Northern Ireland?
What if a cash-strapped IRA had sold all its weaponry to the MG in 1968?
What if the MG went on to sustain a decades-long conflict with the British Government in which more than 30,000 died?
Let's put these what-ifs away just for a moment. I'm presenting a version of history that came within a gnat's whisker of what actually happened here in the UK - The IRA really were on the verge of selling their arms cache to the MG when the Troubles began.
The point of this is to try and create an analogy of the situation in Turkey vis a vis the Kurds: They want language and education rights and autonomy, just as people in Wales do. The difference is that the Turkish state has never been that keen on accommodating this. During the 90s, it seemed that the conflict would never end - yet the news and the way the situation was represented was muted, repressed and entirely biased.
Rather like, in fact, the way the British media at the same time robustly denied that there was anything remotely like peace talks with the IRA going on.
Turkey has its reasons as to why it will never want to cede sovereign territory, albeit ones that you may think aren't that good. It essentially comes down to the Anglo-French Sykes-Picot Agreement, which effectively carved up the corpse of the Ottoman Empire at the end of the first world war. Turkey was effectively a vassal state, until Mustafa Kemal rallied his forces and pushed out the occupying countries during the War of Liberation in 22/23. Part of the new constitution mentions that the Turkish State is a single, united and inviolable entity.
Quite simply, the Turkish state regards itself as a monolithic, unchanging thing, rather than the pluralistic, cosmopolitan, multilingual vast entrepot that it really is.
Going back to my what-if analogy now: Imagine that you are in the town centre, near the bus terminal or the train station - it's a sunny afternoon, people are going to and fro, some kids have left school and are hanging around. There are queues of people waiting for buses, and they're doing what people do - chatting, looking at Facebook, texting family, friends. A few people are having something to eat and drink, sat at tables outside a cafe. There is music wafting across the street and the aromas from various restaurants and shops. A bus slowly drives past.
And suddenly the image flares, first bright white, then red, then black. The noise is so tremendous that it is silent, a heavy hard huge fist pushing at your chest, slapping you to the ground. Moments later, there is only blackness and silence and a hole where the bus used to be. There are holes everywhere, absences in space and time where there should be people. Lives brushed away, ended brutally, or lives twisted and changed.
And imagine this in your town, your life.
Later it turns out that it was yet another attack by the MG. The Queen, who has worn black since the murder of her son in 1966, expresses her sorrow and horror. The Prime Minster vows to 'bring terrorism to its knees'.
Of course, this is an analogy, but it's the very closest I can create to describe the scenario in Turkey to a UK audience.
Now let's zoom back to the real - and what I describe above is what happened in Ankara yesterday - Ankara, a very real, very lively city that is no different from where you or I live, with the same kind of people walking the same kind of streets.
And it all goes back to a want of conversation, an unwillingness to talk. And yet all wars, in the end, must needs be rounded with dialogue.
We do not need to live in a world of what-ifs, of missed opportunities: We can make a brighter, better, happier place - but we should start with talk, and continue with talk, and end with talk.